Ad blocker interference detected!
Wikia is a free-to-use site that makes money from advertising. We have a modified experience for viewers using ad blockers

Wikia is not accessible if you've made further modifications. Remove the custom ad blocker rule(s) and the page will load as expected.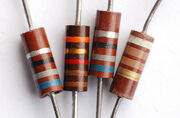 A resistor is one of the most widely used and most basic[
electronic components
]. It a is cassified as a passive device that creates a resistance to the flow of
[electrons
]. 
ohm's law
states that the
current
through a conductor between two points is directly
proportional
to the
potential difference
across the two points. Introducing the constant of proportionality, the
resistance
,
[1]
one arrives at the usual mathematical equation that describes this relationship:
[2]